Frequently Asked Questions
What is Personal Injury?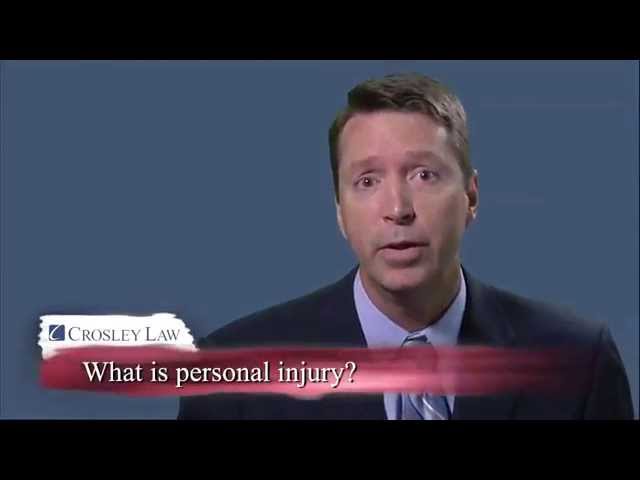 "Personal injury" is the type of law we focus on at Crosley Law Firm. It is a specific area of legal practice and a broad term that means any kind of accident or occurrence resulting from the negligence or wrongdoing of others that leads to bodily injury. Many personal injury questions can be answered with a few examples of personal injury:
Brain injury
Car, truck (including 18-wheeler), motorcycle, bicycle, plane, and helicopter accidents
Birth injury
Wrongful death
Product liability (injury from any defective product)
Medical malpractice
Bad medication
Mesothelioma (asbestos)
Injury from defective medicines/prescriptions
Military malpractice
Our practice area pages have more in-depth explanations about the personal injury cases we usually handle. If you believe you have been personally injured by another party, contact us right away!
Do I have a Personal Injury Case? If So, How much is it Worth?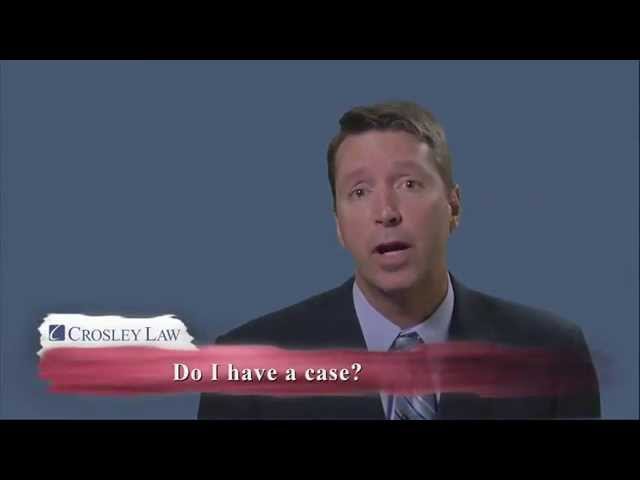 If you have been injured as a result of the negligence or wrongdoing of another, under the law you may be entitled to compensation for past and future out-of-pocket damages, including medical expenses, loss of wages, and/or loss of earning capacity. You may also be entitled to reasonable and fair compensation for what the law calls "general damages," which include such things as pain and suffering, disability, disfigurement, and loss of enjoyment in life.
In assessing whether you have a case and its value, some factors to be considered include the nature and extent of the injuries, the degree of pain and/or emotional suffering, your degree of disability, and the length of time that and extent to which the injury will affect your life. Our firm's attorneys are experienced at evaluating cases and their estimated value. To have your case reviewed for free by one of our attorneys, contact us today!
Will The Crosley Law Firm Take My Case?
Our practice is devoted exclusively to representing Plaintiffs in a variety of personal injury claims. We carefully and comprehensively evaluate each case individually. We are happy to review your case for free and quickly let you know whether we are able to take your case. Call our office or submit a free online case review on our website.
What is a Traumatic Brain Injury?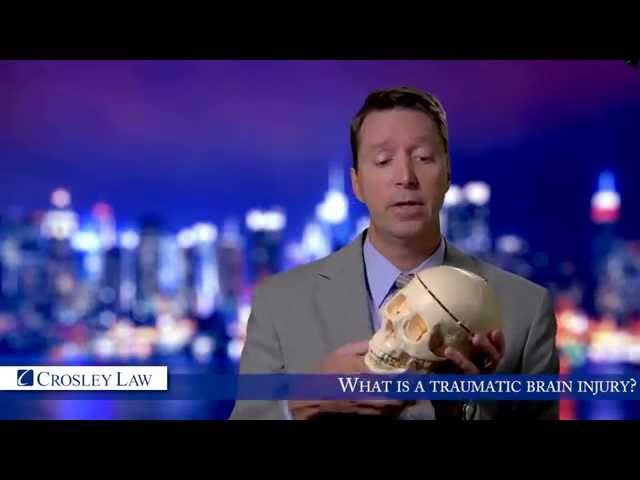 What are the Symptoms of a TBI?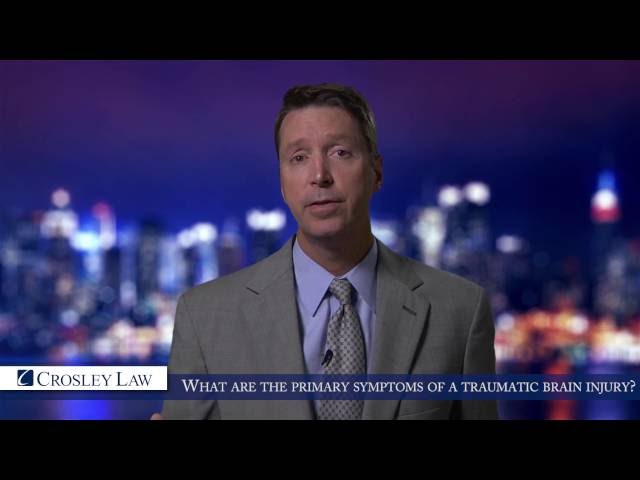 Child Brain Injury vs. Adult Brain Injury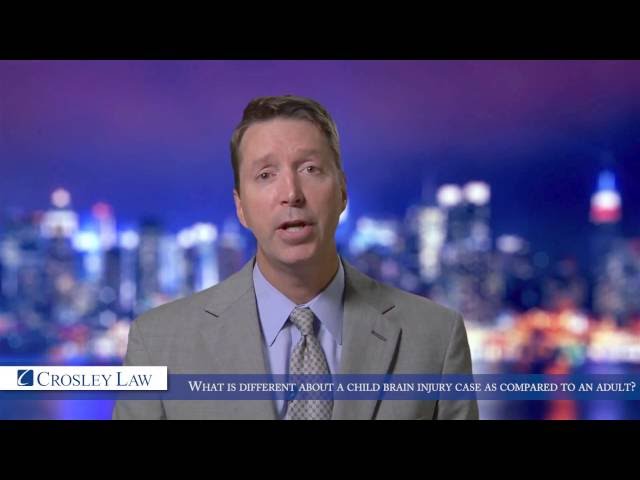 Headaches After Head Injuries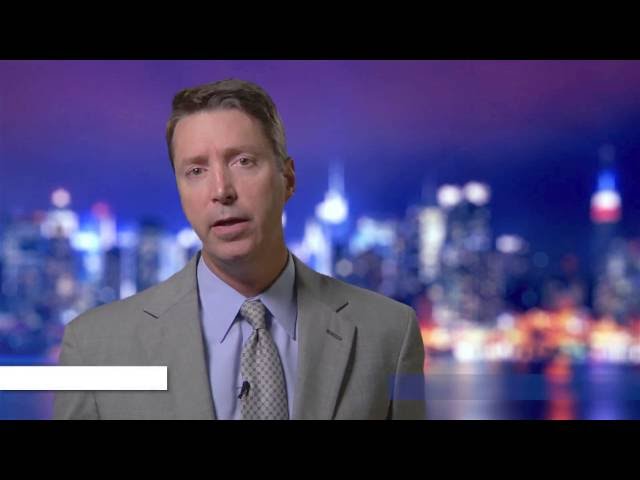 What are the Symptoms of Post-Concussive Syndrome?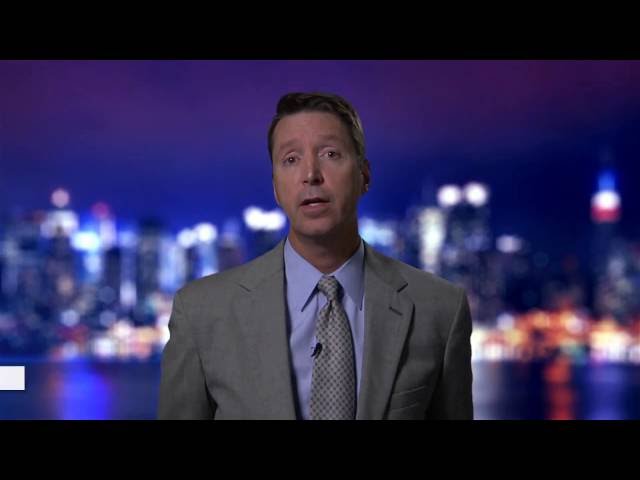 How can a Plaintiff have a TBI if the Scans at the Hospital are Normal?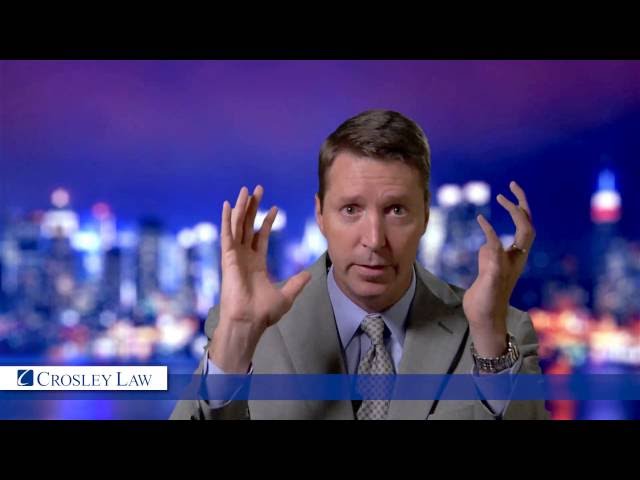 What are the Classifications of Traumatic Brain Injury?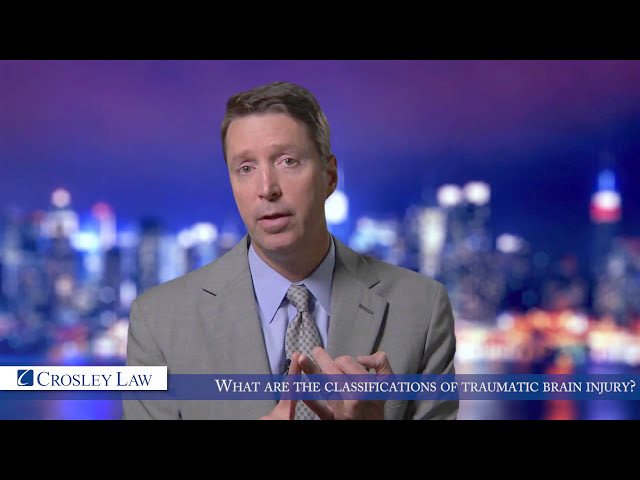 What are the Leading Causes of Traumatic Brain Injury?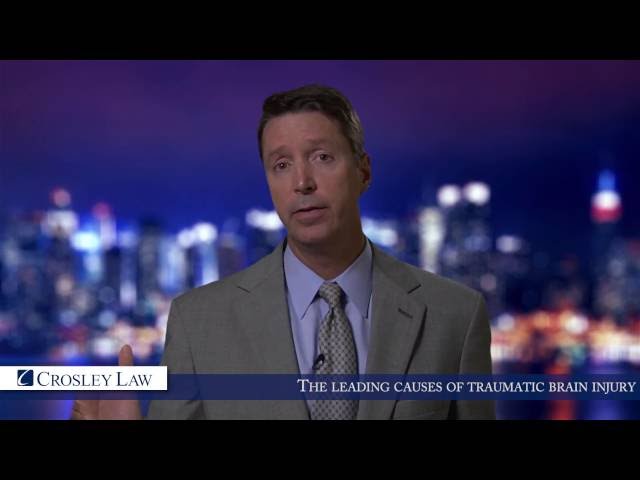 The leading causes of traumatic brain injury include falls, motor vehicle crashes, being struck by an object, and assaults. Those causes represent more than 80 percent of all known causes of TBI based on emergency room admission data collected in the United States.
Should a lawyer be an expert in bike accidents to handle a bike case?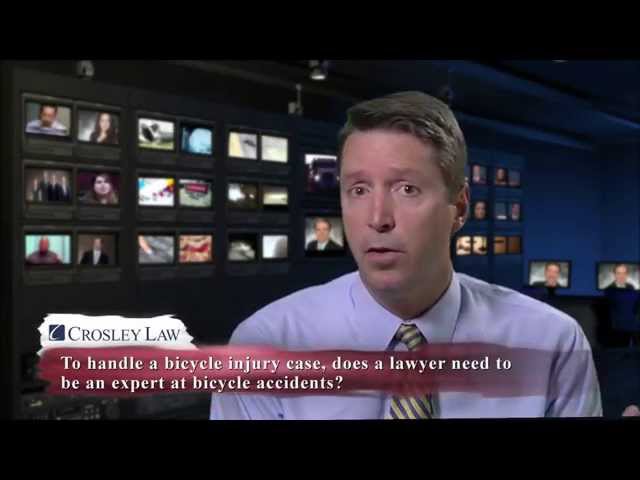 What are Contingent Fee Cases? Does the Crosley Law Firm take these Types of Cases?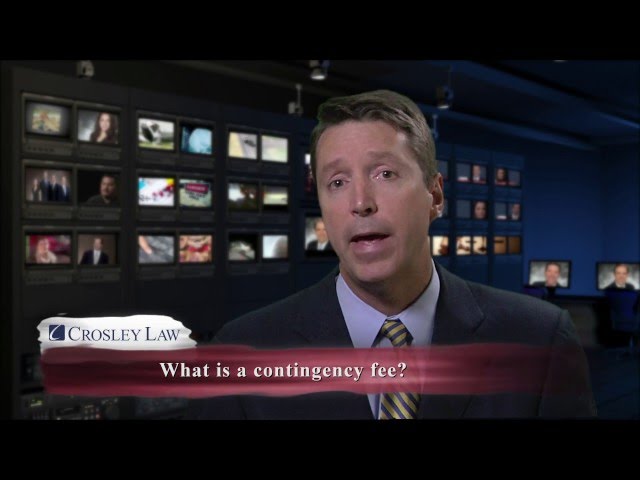 As a general rule, accident and personal injury litigation (which is what we specialize in at Crosley Law Firm) is frequently handled on a "contingent fee" basis. A contingent fee arrangement is a method that allows individuals who have been injured or who are seeking personal injury damages (such as those resulting from an auto accident or a medical malpractice case) to obtain legal representation, even if they do not have money to pay for a lawyer at the outset of a case.
Crosley Law Firm takes all qualified cases on a contingent fee basis. This means we advance all expenses and costs of the law suit. You do not pay legal fees until and unless we settle or win your case in court. Once your case is paid out by award or settlement, attorney's fees are deducted and then client expenses and costs are deducted. The balance of the award or settlement goes to you, the client.
What are the Crosley Law Firm's Attorneys' Fees?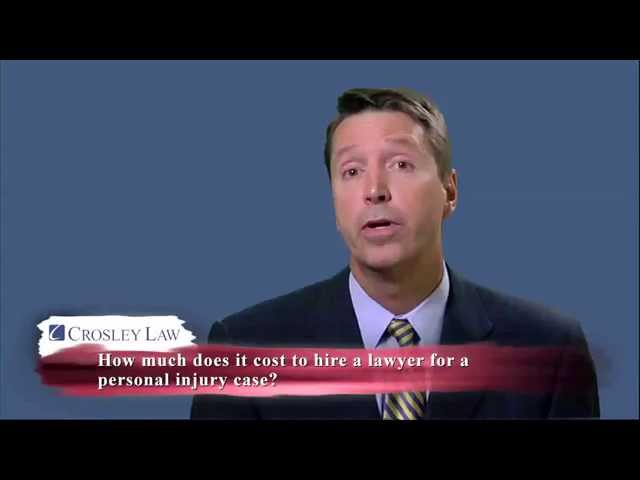 If we accept your case, our law firm will represent you on a contingent fee basis (explained above). Our typical fees range from 25-40 % of the total recovery we obtain by settlement or verdict. Often, the fee range is dependent on the complexity and type of case and whether or not a lawsuit must be filed in your case. Fee structure is agreed upon prior to our firm taking your case. If you would like further information on our fee structure, feel free to contact us by phone or e-mail.
What about Costs . . . . Does the Crosley Law Firm Pay Them?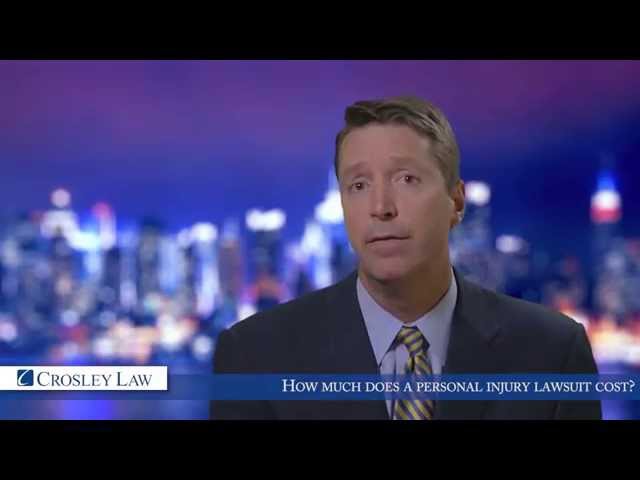 Costs are separate from attorneys' fees. When we accept your case, we will advance all costs required to bring your case to a successful conclusion. This includes items such as travel expenses, obtaining and reviewing medical records, investigation and deposition expenses, filing fees, and other expenses associated with trial preparation and court costs.
When required, it may also include expenses for expert witnesses (e.g. doctors, engineers, specialists, etc). Our law firm uses some of the most experienced experts to help give our clients the best opportunity for successful resolution of their case. These experts can be expensive at times, so we like to keep our clients informed when we hire experts and if we will incur major expenses on their case.
Crosley Law Firm takes all qualified cases on a contingent fee basis. This means we advance all expenses and costs of the law suit. You do not pay legal fees until and unless we settle or win your case in court. Once your case is paid out by award or settlement, attorney's fees are deducted and then client expenses and costs are deducted. The balance of the award or settlement goes to you, the client.
Will The Crosley Law Firm talk to me about my Case for Free?
Yes! If you want to talk to one of our lawyers about a case, please do not hesitate to call our office. After you have answered a few basic questions with one of our staff members, one of our attorneys will be happy to discuss your case for free, either on the telephone or in our office. Generally, it will take only fifteen to thirty minutes for us to decide whether or not we can help you. You can also submit a free online case review on our website.
If the Crosley Law Firm Takes my Case, What Next?
One of our goals is to make the entire legal process as easy as possible for you. After we agree to take your case, we will immediately take action to protect your interests in the case.
This may include contacting any insurance companies and other parties to notify them that we represent you and to request that they direct further communications about your case to us. You will be protected from their attempts to obtain recorded statements or obtain private information about you and your medical history without contacting us first.
We will immediately preserve any evidence in your case and obtain information from key witnesses. The timing of this is important since witnesses may forget significant facts, move, or pass away. Obtaining and preserving evidence immediately can, at times, be the difference between a successful and unsuccessful result in a case.
Once we obtain facts and evidence regarding your case and determine the nature and extent of your injuries and all relevant damages, we will generate a demand and present it to the at-fault party and their insurance company. The demand is an extensive summary of the evidence, including facts of the case, analysis of the applicable law, a summary of all past and future out-of-pocket losses, and an analysis of all past and future damages for pain and suffering, loss of enjoyment of life, disability, and disfigurement. The demand is supported by relevant medical records, medical bills, witness statements, and expert opinions. The demand is essentially an in-depth overview of your case and an offer for settlement for a dollar amount that you and our attorneys agree to in advance based on the factors and nature of your case.
A thoroughly prepared demand package is the best way to avoid litigation and promptly settle a case. In fact, the majority of our cases settle at this stage, prior to a lawsuit ever being filed. For those cases where it is necessary to go further in order to obtain justice for our clients, the next step is to file an actual lawsuit.
How Do I Choose a Personal Injury Attorney?
The first thing to consider when selecting an attorney is the attorney's level of success handling difficult and complex personal injury cases. An attorney with a "general practice" typically does not have the experience or expertise to handle a serious personal injury case. You are best off with a lawyer that devotes their practice to representing personal injury plaintiffs.
Essentially, you need an attorney that can competently handle your case. If your case involves significant damages and complex issues, it will require extensive time, energy, and resources to bring to court. Make sure your attorney is prepared to and can handle your case.
Another important consideration is your comfort level – you should feel comfortable with your attorney and the law firm's staff. You should feel a high level of trust that your lawyer is the type of person who will listen to and be available for you. You need to feel as though your case is as important to your attorney as it is to you! A lawyer that is not committed to your case is not going to get the best results for you.
At Crosley Law Firm, we accept personal injury cases ONLY and our dedication to our clients' interests is unparalleled. We have the experience, expertise, and resources to achieve desired results. At the same time, we have compassion for our clients and a passion for pursuing justice on their behalf. Our proven track record speaks for itself, so contact us today!
How Does the Litigation Process Work?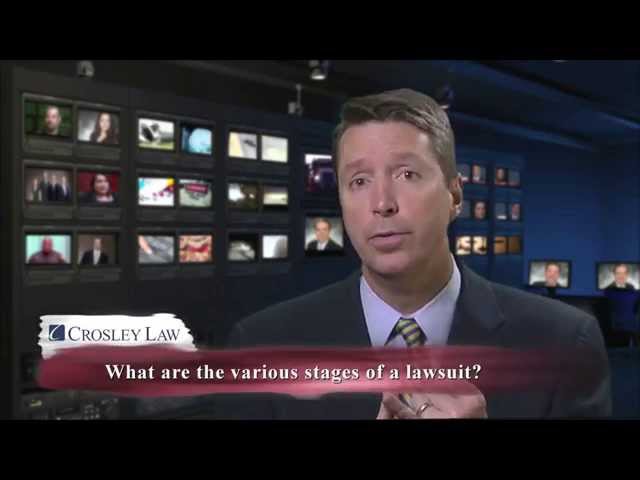 Litigation begins when a lawsuit is filed and defendants are served with a summons and complaint. A complaint is a legal document that summarizes the plaintiff's (the injured person's) claims against the defendants. Each defendant is then required to file an answer to the complaint.
The next step in the litigation process is called "discovery." During discovery, both sides use formal procedures to obtain information from each other. These procedures include written questions or requests to produce documents and other relevant information. Witnesses may also be placed under oath and asked questions before a court reporter who documents the interview in a deposition.
After both sides have completed the discovery phase, they are ready to try the case in a court of law. Prior to the actual trial of the case, however, the parties typically try to settle the case through a process called mediation. If a case is well prepared, it usually will settle at this stage without ever having to go to trial.
Should I Talk to the At-Fault Party's Insurance Company?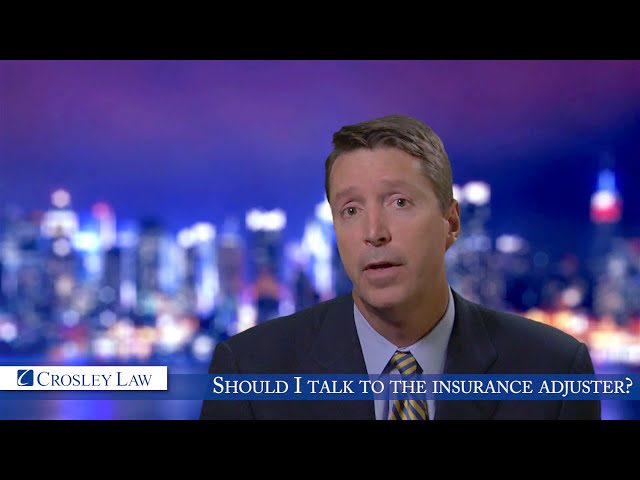 We recommend that you DO NOT speak to the at-fault party's insurance company or sign any documents they present you unless you have first consulted with your attorney. Insurance companies make their money by paying out the least amount possible for claims.
"Friendly" insurance adjusters are well-trained investigators that seek to obtain information that may very well damage or hinder your case. Unfortunately, these adjusters often misrepresent the truth and the law to unsuspecting accident victims.
DO NOT provide insurance companies with any information or sign any documents without first consulting Crosley Law Firm or a qualified attorney.
How long will my personal injury claim last?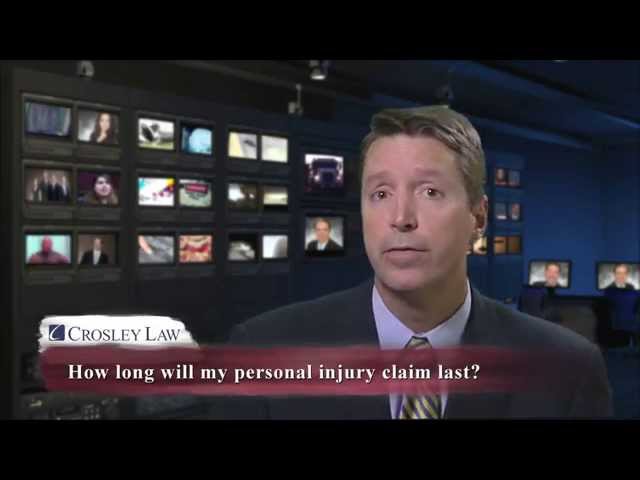 The average is about 18 months from start to finish. If the case can be settled without filing suit, that can result in a case settling in 6 months to 12 months. If the case goes into a lawsuit, it might take 12 months to 24 months. I have had a case that only took three weeks to handle, and I've had other cases that took over 4 years to handle, but the data shows the average is about 18 months.
What are the variables that make some cases take longer and other cases take less? One is if the client has got complicated medical issues that require ongoing medical care. For example, most lawyers don't want to settle an important case until they know with some degree of certainty how bad the medical injuries are, or what the future medical treatment is going to be. If a client is still going to the doctor and there's not a final prognosis that's been given by the doctor, then the lawyer is going to wait and settle that case until after the doctor gives a final opinion.
Other things that may slow a case down are if there are multiple parties to the lawsuit. For example, if you have an airbag defect case and you've sued the vehicle manufacturer, the maker of some of the airbag components, and the driver of the other car, you can see how there might be multiple defendants. When you get lots of people involved in the lawsuit, it can complicate things and drag things out. However, the average remains 18 months.
Do Injury Claims Always Go to Court?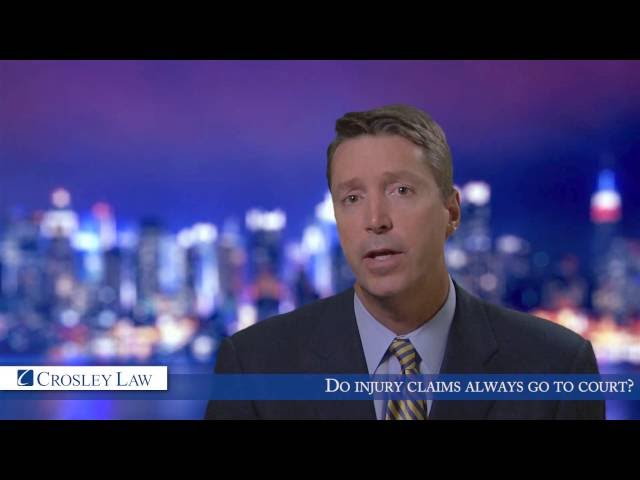 If I signed a waiver, is it possible I still have a case?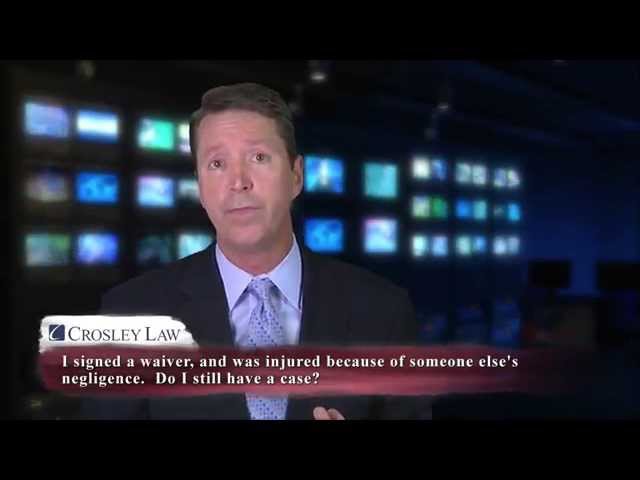 What if you've been injured & the other driver has no auto insurance?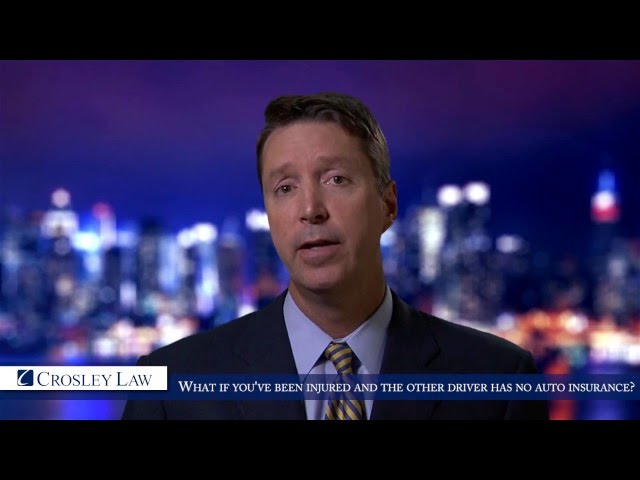 I've been in a car accident, how soon should I go to the doctor?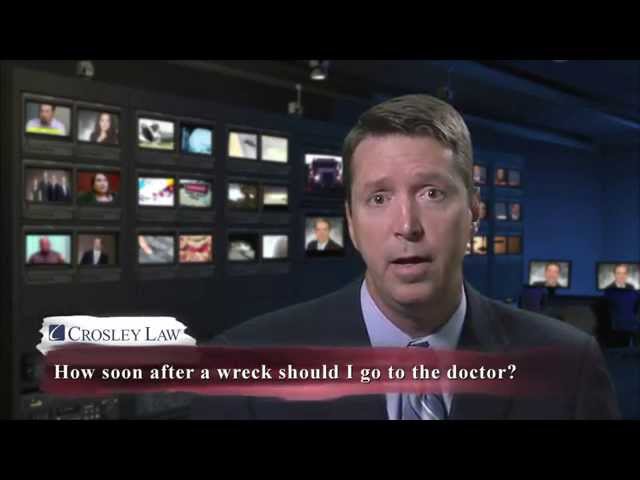 I've been in an accident, and the other driver was intoxicated. What now?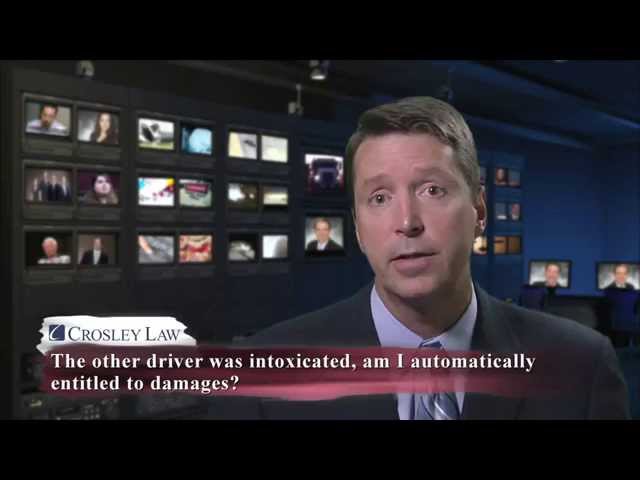 Should you call the police if you've been involved in a car wreck?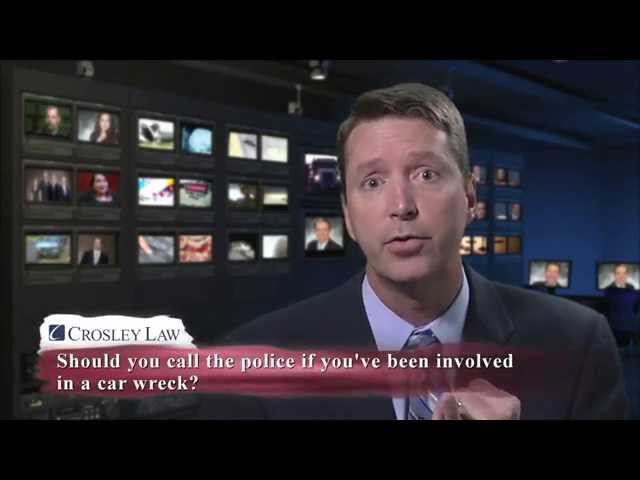 The answer to that question is almost always yes. If there has been any damage to the vehicles involved, you should call the police. If there's any injury claimed by any person involved in the crash then yes, you should call the police. If the wreck was not your fault, it's essential that you have the police there because they are trained and required to document a rudimentary investigation of the crash and to list what they believe the contributing factors are that caused the crash based on that investigation. Those factors end up becoming vital evidence if it becomes a legal claim or court case. The police report will also document the date, time and location, any eye witnesses that the police are able to identify, a description of what each side says happened that led to the crash, any insurance information by each party to the vehicle accident, and a host of other factors that end up being important for an attorney who may later be handling a claim arising from that automobile collision.
What makes Crosley Law Firm different?
How will your case be handled?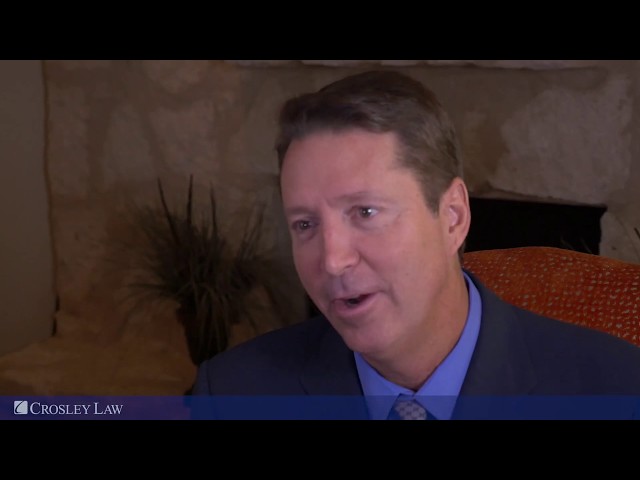 How soon should I contact an attorney?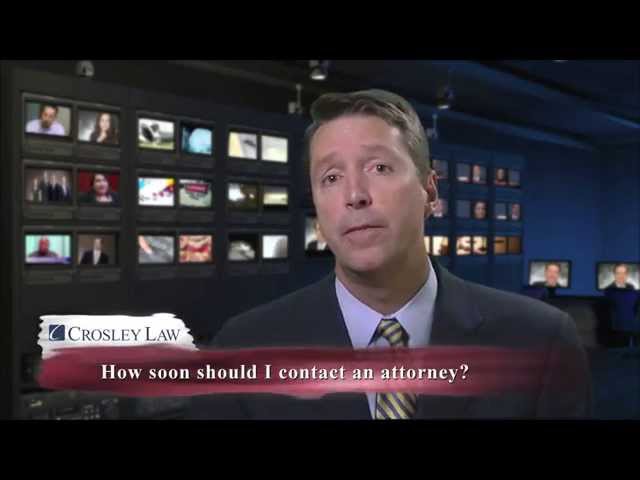 What happens when you hire a lawyer?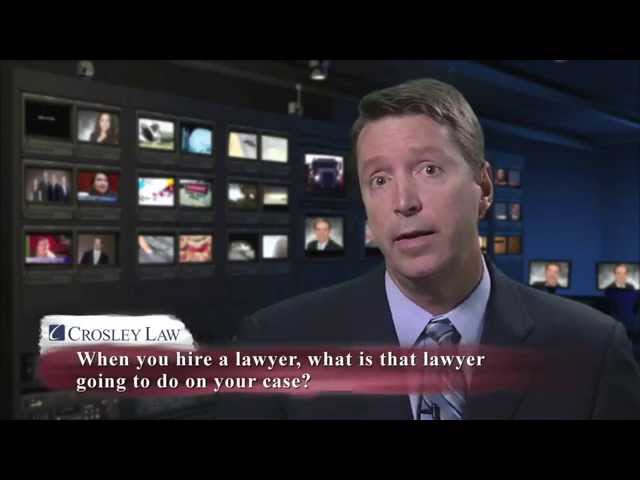 Do you need an attorney for every case?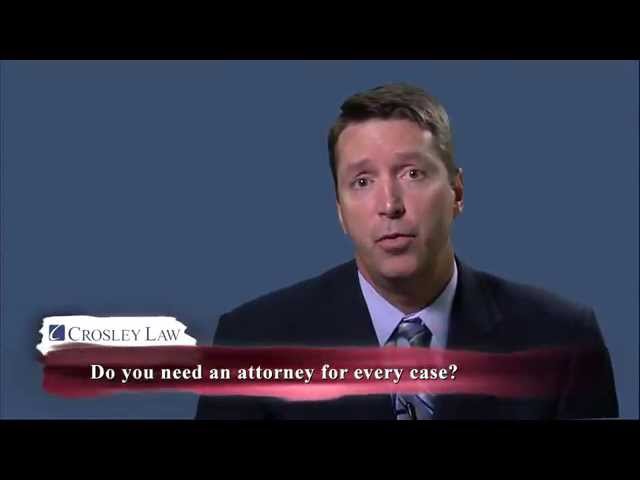 You only need a lawyer if you have a serious or permanent injury or if there are complex issues in your case. If you have a claim that doesn't involve a lot of money and controversy, it probably doesn't make sense to incur the cost or time of hiring an attorney. However, if there is anything serious or permanent or life-changing about your injury then you absolutely need an attorney. People will say the insurance company is offering me X amount of dollars and I don't even have an attorney yet. Should I hire an attorney? Why would I need one when they're already offering me X? In my experience, the answer is that 100 percent of the time the offer ends up being much greater than X with a competent qualified attorney on board. And that's why I think that any serious case essentially requires the assistance of a qualified attorney.
How can a lawyer help with my case?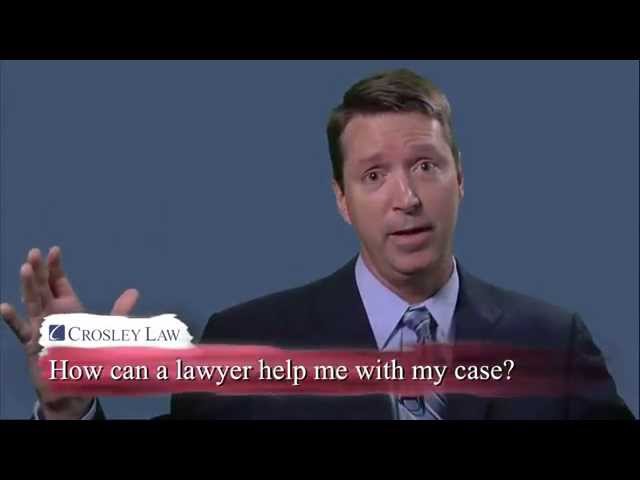 What types of damages am I entitled to recover in my lawsuit?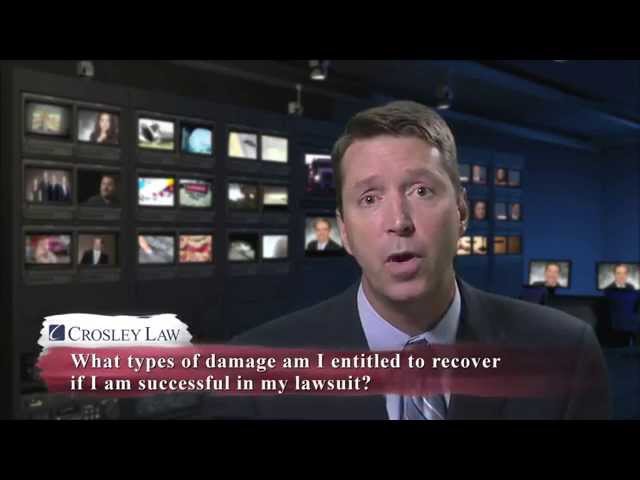 I don't have the money to pay you, can you still take my case?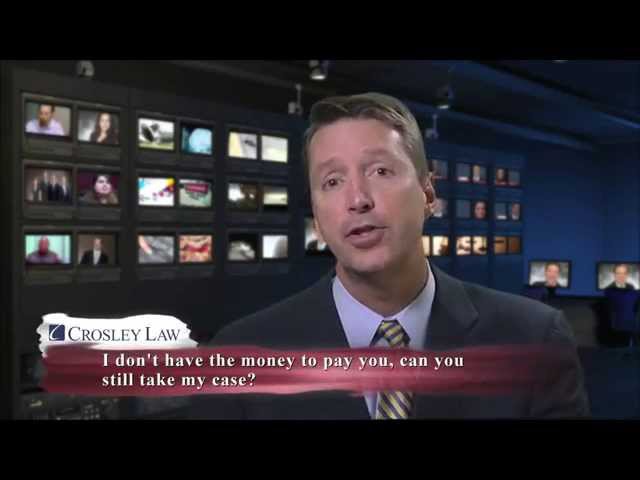 How much is my case worth?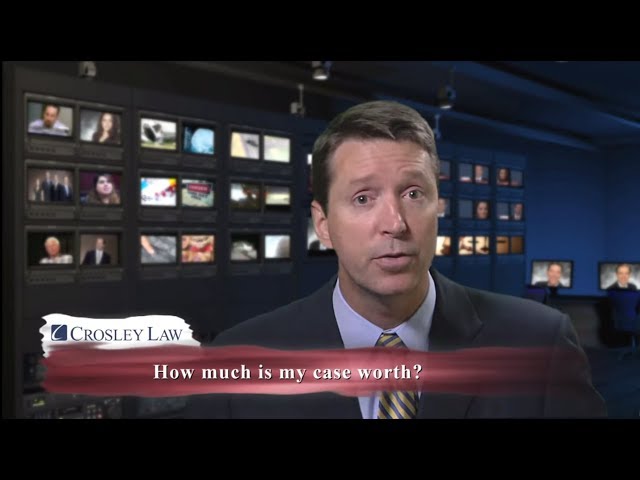 What is fair compensation for my claim?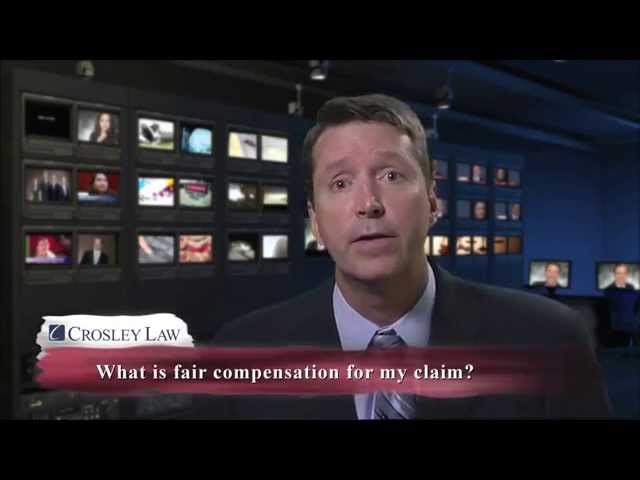 What is a Statute of Limitations?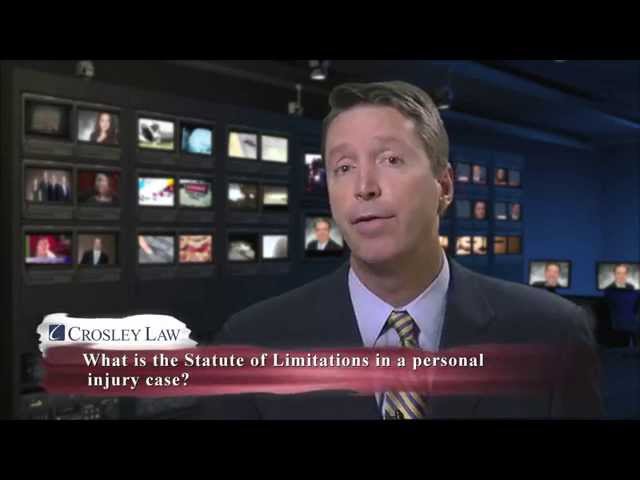 What does it mean to File Suit?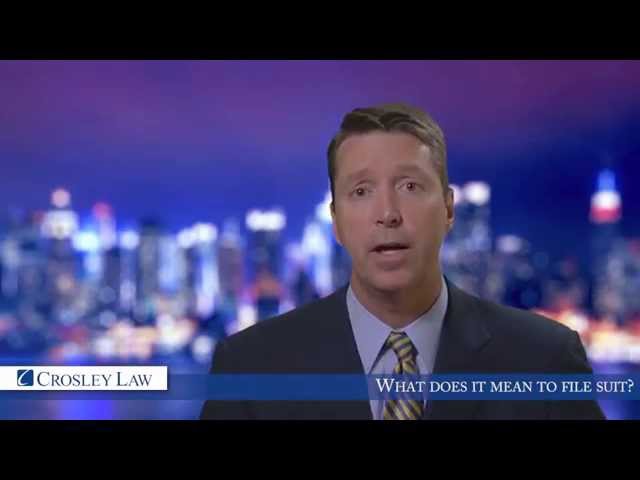 Why hire a lawyer with a track record of success?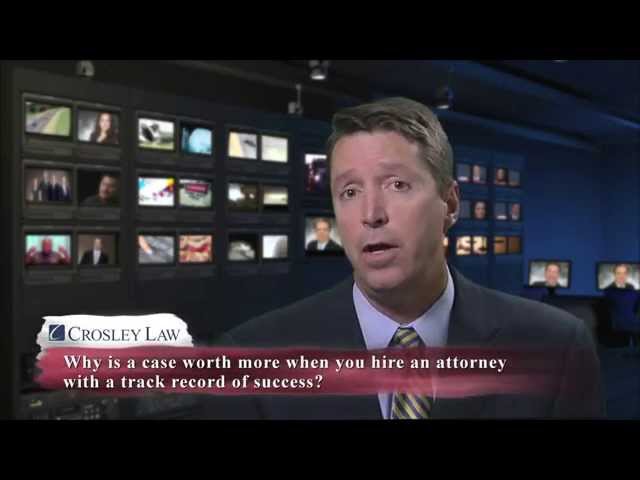 If I file a lawsuit, will someone spy on me?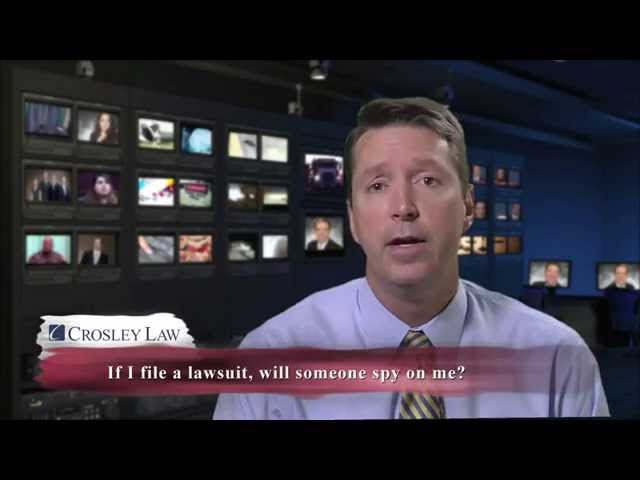 Yes, sometimes. This is what's known as surveillance, and it is legal. Frequently, an insurance company on the other side of an injury claim may hire a private investigator to follow an injury plaintiff and record their activities. What they're looking for is behavior that is inconsistent with the injuries that are claimed. I tell my clients when this issue comes up, just be natural, be yourself. If you are legitimate, truthful, and behaving normally, you've got nothing to fear if you are under surveillance or not.
I'm frequently able to use this surveillance against the other side. For example, I had a little old lady who lived alone and there was a private investigator doing surveillance on her. I introduced all the evidence of surveillance in the courtroom, and it showed her behaving consistent with her injuries in a way that was very truthful, and it underscored and corroborated her claims. It made the defendant trucking company in that case look even worse than they already looked. It ended up making her case into a record verdict for that county. Don't worry about surveillance, as long as you are being truthful.
How do I prepare for my deposition?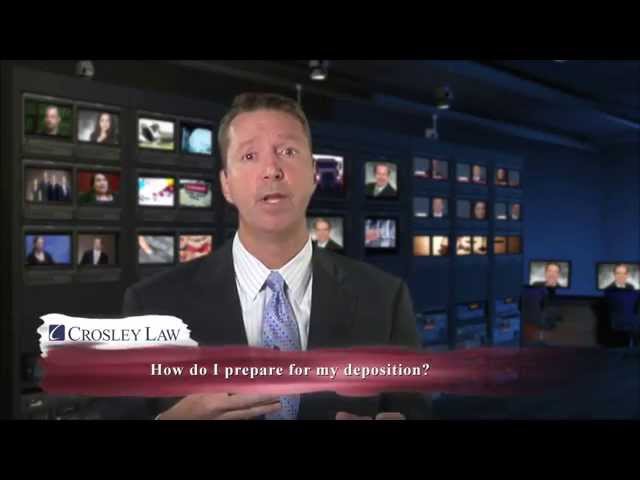 The Importance of Being Prepared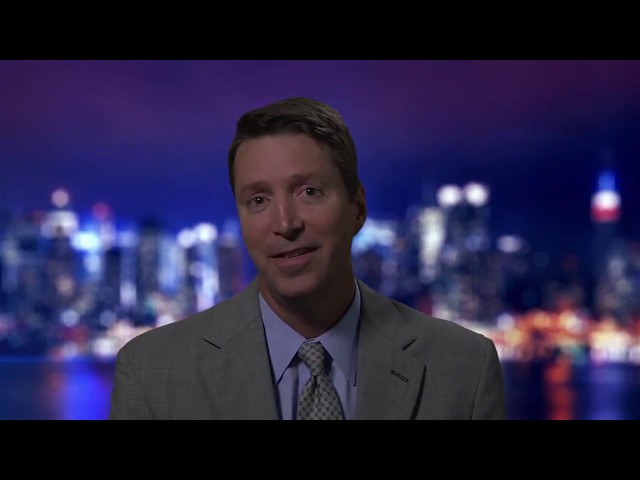 What should I expect if I'm going to have to give a deposition?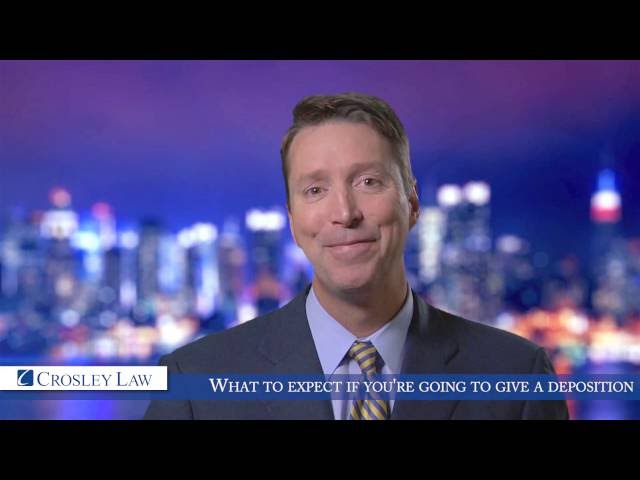 Can my activity on Facebook or Twitter hurt my lawsuit?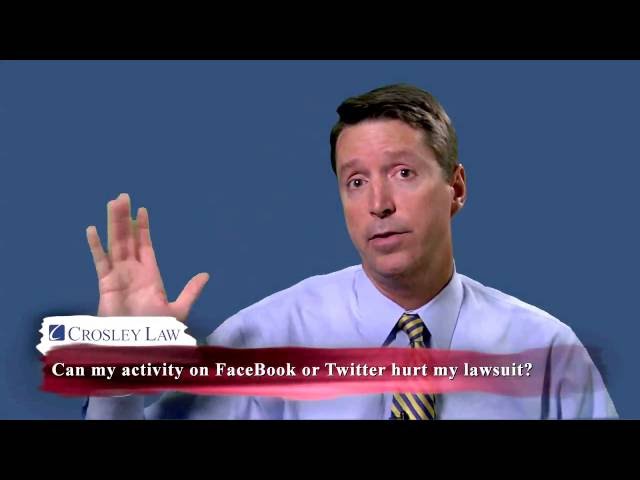 My case has been settled. So now what?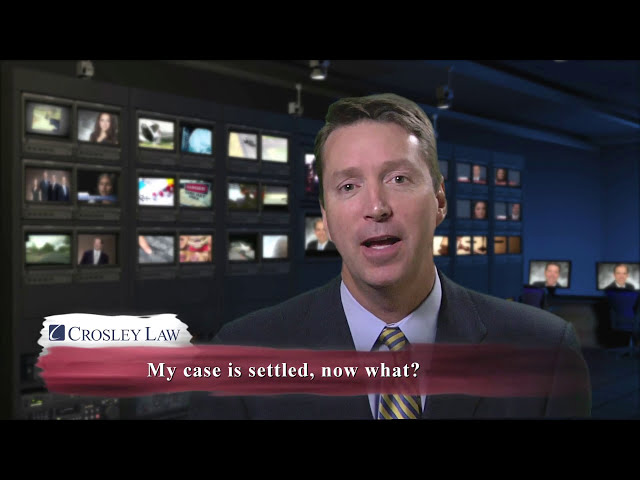 That can be a tough question sometimes, because a lot of work remains to be done after the settlement is reached. Here are some examples. If there are any government benefits that were paid to the client that relate to the injuries that the settlement covers, then you've got to deal with government reimbursement plans, such as Medicare, Medicaid, or other government benefits. If there were health insurance payments made for medical expenses, then typically the health insurance company asserts a claim for reimbursement of those expenses. Sometimes there's hospital liens. Sometimes there's a workers' compensation lien if there were comp benefits paid for an on-the-job injury. There's lots of instances where there are other entities such as hospitals or health insurers are attempting to claw back portions of the settlement proceeds for themselves. It's your lawyer's job to fight to protect as much of the settlement as possible and preserve them for your own benefit.
The other driver was intoxicated, am I automatically entitled to damages?
In every case, you have to prove the level of harm that you suffered as a result of an accident or an injury or an event. So even though another driver may be intoxicated, you still have to prove how that intoxication crash resulted in harm to you. The fact that a driver may be intoxicated may make it easier to prove that the other driver was negligent; in other words, that the other driver failed to use ordinary care and failed to follow the rules of road that we expect all drivers to follow, but you still need to show what the harm is and how that harm has resulted in a money damage loss or interruption of your life. One other interesting thing to know about intoxication cases is that sometimes there are insurance exclusions that certain insurance policies won't cover or will limit the amount of coverage for an intoxicated driver, so it helps to have a lawyer who is asking those questions familiar with those insurance policies. It also helps to have somebody who will look at all the available insurance coverages out there, including your own insurance coverage.
If the insurance adjuster calls asking for a recorded statement, should I talk to them?
You've been in an accident and the insurance adjuster is calling you asking for a recorded statement, should you talk to them? That question comes up in almost every car wreck case. The answer is, if it is the other side's insurance company there is no rule that says you have to talk to them. In fact, I would encourage you not to until you first talk to an attorney if you have an injury claim. The more serious your injury claim, the stricter that rule becomes. I would never allow one of my clients to talk to the other side's insurance company without first getting advice from me in an injury claim. If it's your own insurance adjuster than it is okay to talk to them about your injury claim. They're there to help you. There are some exceptions to that, and the more serious your injury the more important it is that you promptly seek the advice of a competent lawyer.
Why Are Commercial Trampoline Parks So Dangerous?
Commercial trampoline parks often use a complex or connected system of multiple trampoline beds that create a different set of dangers than what you're used to in your typical backyard trampoline. Also, trampoline parks often employ jump monitors who are still teenagers, or in their early 20s, and who may lack the experience or judgment necessary to deal with seriously injured customers. Finally, many of these commercial trampoline parks are disregarding basic trampoline safety rules, like only allowing one jumper at a time per trampoline bed. In fact, emergency room doctors who are now seeing a lot of high-impact injuries from commercial trampoline parks compare those injuries to those sustained in war or car crashes in terms of the severity of the injury. Meanwhile, the number of commercial trampoline parks is skyrocketing. A few years ago, there were only six trampoline parks across the nation. Now, there will be over 200 including dozens in Texas. Some states, like Arizona, Utah, California, Michigan, have all stepped up to address these safety issues, but trampoline parks in Texas remain completely unregulated.
Do you or a family member
need legal advice?
Crosley Law Firm, PC is a professional corporation of trial lawyers focused on representing individuals and families who have suffered serious personal injuries or wrongful death. If you've been injured, fill out the form for a free consultation, or call 210-LAW-3000.
We Can Help
Request Your Free Consultation